CHOOSE YOUR DESORI
Give it a try!
If you want your desOri pendant you can choose from the already made desOri products available online, or else you can ask for your own personal design from an old watch you provide.
How to order a personal piece of jewelry?
1. Fill in the form in our website and let us know your preferences.
2. Send us your watch. You can either bring it in personally or apply for it to be collected by a transport agent (see fare for transport).
3. When we have your clock, we will make an artistic interpretation with the clock face in our workshop. This process takes approximately 15 days.
4. Once we receive the proof of payment, our transport will deliver your piece at a time of your convenience.
PENDANTS UNDER WARRANTY 
When you purchase your item an invoice will be sent to you by email. This can be used as warranty proof if needed.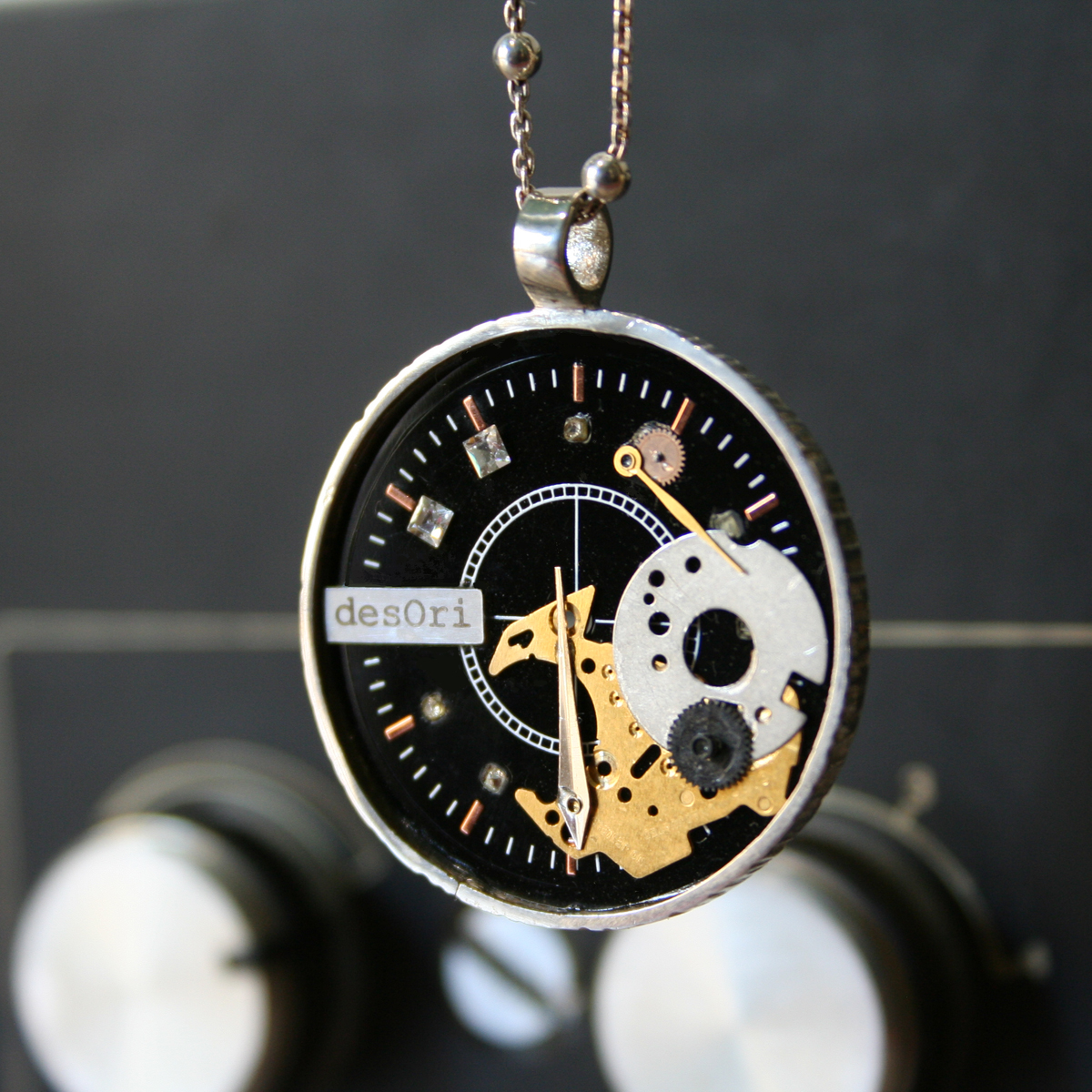 PENDANT
Basic round silver pendant martelé finishing
60,00€
Square, oval or particular shape in silver with martelé finishing
70,00€
CHAIN
Ruthenium plated silver chain:
Length 40 cm: 17,00€
Length 45cm: 19,00€
Length 50cm: 21,00€
desOri silver chain with beads:
Length 40 cm: 14,00€
Length 45cm: 16,00€
Length 50cm: 18,00
All prices include 21% VAT. Transport not included.
Our transport agency is MRW. Prices will depend on the geographical area of delivery, based on a standard fare of 72h delivery:
NATIONAL DELIVERY
Spain mainland, Andorra, Gibraltar and Portugal: 6.50€
Balearic Islands: 9.50€
Gran Canaria and Tenerife: 13.90€
Lanzarote, Fuerteventura, La Palma, La Gomera and El Hierro: 14,50€
Ceuta: 28,25€
Melilla: 12,85€
INTERNATIONAL SHIPMENTS
Europe Zone 1 (Germany, Austria, Belgium, Denmark, France, Holland, Italy, Luxembourg, Poland, UK, Czech Republic, Switzerland): 23,55€
Europe Zone 2 (Bulgary, Slovenia, Estonia, Finland, Greece, Hungary, Ireland, Lietuva, Lituania, Norway, Slovakia, Romania, Sweden): 36,60€
All prices include 21% VAT.
You can pay by:
Bank transfer: we will email you the amount to be transferred and our bank account details.
Smart&Sell from BankSabadell: we will send you a price offer and an access code to the safe payment way by Banc Sabadell.
Once payment has been made, you will be able to rectify your order within the next 24 hours. After these, we will proceed with the manufacture and shipping and the withdrawal of the purchase will not be possible.
DESORI PERSONAL APPLICATION FORM